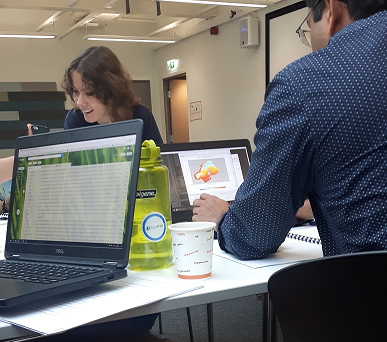 19 doctoral students gathered at the University of Bergen's Geophysical Institute for an interactive three-day (23-25 October) scientific writing workshop with Dr. Daniel Soule.
The course took a holistic approach to research writing, considering not only the demands of scientific style, structure and editing, but also issues around motivation, effective use of time, project management and the publication process.
Things kicked off on day one with an 'Introduction to Research Writing', in which participants explored scientific style, how this is connected to critical thinking and how to develop good writing habits, with regular practice focus on their reading, which is both short but intensive.
Day two switched focus, breaking down the structure of a research paper and developing descriptive models for each section of the paper, student could then use during planning, writing and redrafting their paper. Dr. Soule showed how to used things such as titles, first sentences and introductions early in the planning process to explore the complexities of a data set and refine the author's contribution to a clear message.
Things finished off on day three by looking specifically at the publication process. This included discussion on how to work with multiple authors, factors to consider when submitting to journals, how to deal with rejection and peer review comments. Particular emphasis was put on how to target a journal and thinking about how that might affect the framing of a paper's message.
During the three days participants had the opportunity to spend time developing their writing skills in depth. They were also able to share experiences with other doctoral researchers, consult an academic writing specialist concerning problems specific to their research project.
text: Daniel Soule