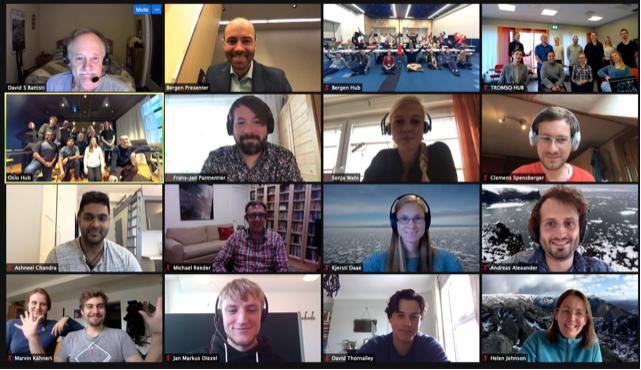 The first virtual CHESS annual meeting from 28-30 September was successfully concluded. The meeting combined online meeting tool ZOOM and social gathering platform GATHER to give participants new experience in virtual conferencing. We also had local gatherings at regional hubs in Bergen, Oslo and Tromsø for local participants to meet physically and to enhance interactions. Despite the technical challenges with this hybrid format, the meeting ran well and participants enjoyed both the scientific discussions and social networking during the meeting. Most participants were impressed how well it worked out. The PhD students, in particular the new PhDs really appreciated the chance to meet in person locally, of which they made great use to integrate into the CHESS family.
More than 70 CHESS members had registered for the meeting. There were 14 talks including 3 by supervisors, and 34 poster presentations. Oral presentations by PhDs were given in 4 sessions, with topics on Ocean and Paleo, Atmosphere, Snow and Ice, and Climate and Vegetation. Student presenters highly appreciated the feedback from the audience and the assigned evaluation committee. The high level of student presentations and engagement had also impressed the supervisors.
A panel comprising of both local and international senior scientists and a communication expert, with topic on how to become a more impactful scientist was conducted. It was inspiring and encouraging to the early career scientists and was well received by the student audience at the meeting. Before the conclusion of the meeting, the CHESS International Evaluation Board gave some valuable feedback and recommendations on how to further improve the school.
We would like to thank all the participants for the enthusiastic engagement and active participation, which made the meeting a successful event despite all the technical hiccups. We look forward to all the exciting CHESS activities in 2021!
Text: Mandy Kong / Photo: Thomas Spengler