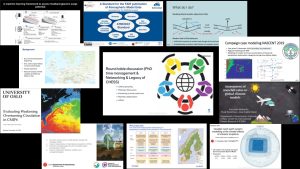 On October 29, CHESS organized a regional meeting in Voksenåsen in Oslo. We started with an ice breaker before heading into the first talk of the day. It was given by Gaurav Madan, who spoke about the importance of storytelling in science. His talk sparked a lively conversation on how we present our research. The next speaker, Grace Shephard, continued along a similar path, discussing science communication and public outreach. She spoke about the importance of knowing your audience and presenting your work accordingly, paying particular attention to press releases and how to handle them.
After lunch, we had a round table discussion hosted by Zhihong Zhou. We touched on various PhD-related subjects but focused on time management, networking, and relationships between students and supervisors. The last presentation of the day was given by Thomas Spengler. He spoke about the current state of CHESS and its legacy, again sparking a lively discussion. We ended the day with a presentation karaoke organized by Franziska Hellmuth and a nice dinner which stretched late into the evening.
This regional meeting was an overall success. It included excellent presentations, exciting discussions, and, perhaps most importantly, a great chance to mingle and meet up in person.
Text: Tómas Zoëga, Picture: Franziska Hellmuth