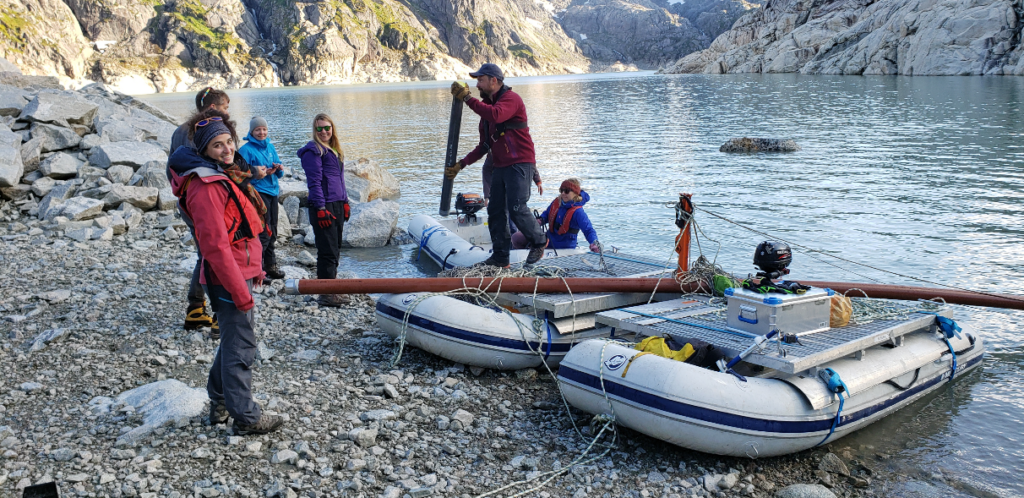 I couldn`t believe it was really happening: an in-person Summer School during Covid-19 times. Yes, international lecturers had to be cancelled, flights were rescheduled and room sharing and seating arrangements were meticulously planned to allow distancing, but we pulled it off in the end. Seven enthusiastic PhD candidates from all over Norway with expertise in different dimensions of glacier-climate research, ready to peer and collaborate beyond the boundaries of their disciplines.
For this purpose, the organizing committee – me, Jostein Bakke, Andreas Born and Benjamin Robson – had brought them to the unique glacial laboratory in our backyard: the Folgefonna ice cap. Here, we had set up an ambitious program to enable our participants to study the inter-disciplinary societal dimensions of glacier-climate change with a new generation of techniques. Our target: glacier-fed and hydro-dammed Mysevatnet. Here, on-going ice retreat has exposed a series of proglacial lakes that have been identified as potential triggers of outburst floods – major geohazards. Our goal: generate and analyze baseline data to aid comprehensive risk assessment.
To do so, we 1) retrieved a sediment core from the depths of the ice-cold lake to identify the imprint of past outburst floods and use this information as a geological reference, 2) analyzed satellite timeseries and drone-derived surface models to better understand historical glacier change and lake evolution, and 3) modeled changes in glacier dimensions to better understand glacier climate sensitivity. In other words, participants gained hands-on experience with a number of highly relevant tools to help us better understand past, present and future glacier-climate change.
The weather gods ensured favorable conditions as we woke up to clear blue skies on most days – perfect for field-based research during the days. In the evenings, participants had the opportunity to work on their newly-generated data in teams, before being briefed on the next day`s work in introductory lectures by each of the organizers. Yes, we put in the hours. Thankfully, our basecamp – the lovely Hardanger Fjord Lodge, took great care of us with fantastic locally-sourced food.
On our final day, participants had the exciting opportunity to disseminate and discuss their findings in the Folgefonn center with local stakeholders from the tourist and hydro industry. Everyone was impressed with the quality of their presentation and a proud organizing committee can look back on successful summer school that was jam-packed with highlights. A big thanks to our participants!
Text and photo: Willem Van Der Bilt